Year, Make, Models Covered
In this video & blog post, the 2007 Honda CRF250R is covered. However, it also covers 2004-2013 CRF250R & CRF250X models.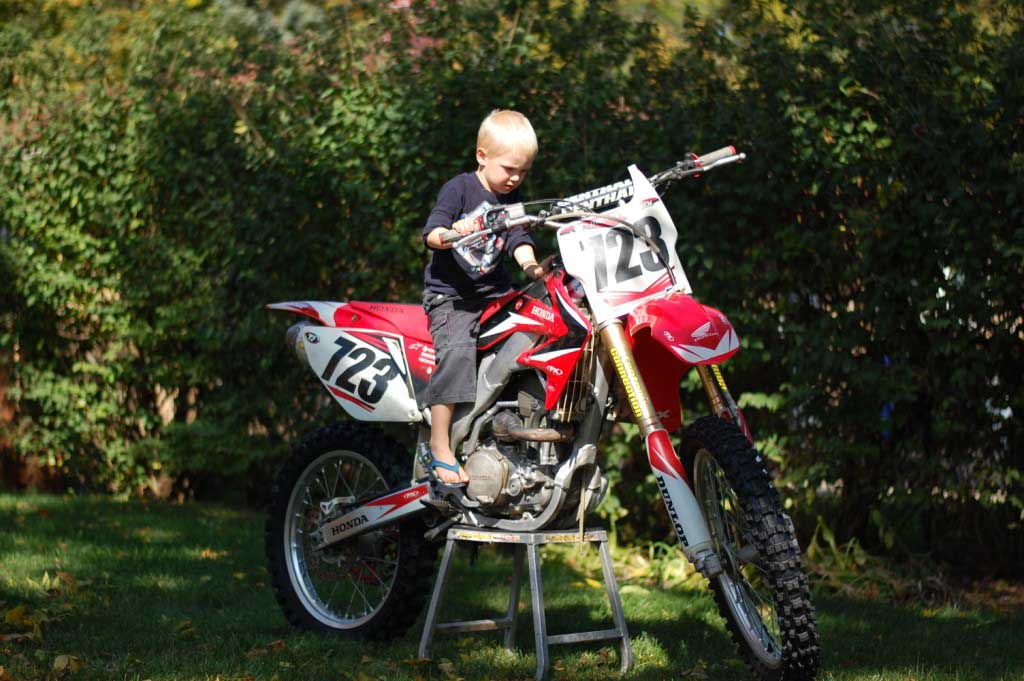 Service manual
Here are links to service manuals you can download in pdf format:
Click here for the 2004-2009 CRF250R service manual.
Click here for the 2010-2013 CRF250R service manual.
Click here for the 2004-2013 CRF250X service manual.
Diagnosis
This CRF stalled going into a corner and was difficult to restart. After limping it back to the pits, it failed to restart and engine became seized. The oil filter was removed and full of metal shavings gold in color. The picture below shows all the shavings in the filter and on my hand. The large end of rod & crank pin is where the failure occurred. The cases have to be split and a new crank assembly will have to be installed.
Work area prep
This job will require a clean and large work area. Clean your workbench of other projects, and organize your workspace, it will save you time and frustration in the long run. Make sure to thoroughly clean your CRF before disassembly, you don't want debris falling into your fresh engine! Print the appropriate sections from the service manual, and head over to Rocky Mountain ATV and print the part diagrams. The part diagrams give you a nice exploded view which is helpful for reassembly. Also, I like to highlight what parts need replacing during disassembly, that way you are less likely to forget to order that one part! Another tip: take pictures or video as you disassemble, it will help if you hit a roadblock during reassembly. I referred to my own video for the reassembly process numerous times.
Tools
Aside from basic hand tools, you will need a flywheel puller and clutch holder tool. You will not need a case splitter, you can simply tap the case halves with a rubber mallet to split them.
Motion Pro 08-0257 24mm Flywheel Puller M24 X 1.5 R.H.
Motion Pro 08-0008 Clutch Holding Tool
Motion Pro 08-0427 Gear Jammer Tool
 (not shown in video, however would have helped!)
BOA BO13010 Constrictor Aluminum Strap Wrench
 (also not shown in video, helpful if not using air tools to hold flywheel)
Autozone OEM PN 27119 Bearing & Race Installer (Free rental)
So how long did it take?
It took me roughly 12 hours to complete the job. Plan on spending 2 hours to pull the motor out of the frame.  My camera batteries died on me while pulling the motor, so the video really focuses on the motor only.
Aftermarket parts
OEM parts were used when this engine was rebuilt, however you can save some money by going with an aftermarket crank kit or cylinder/piston kit from Amazon.
OEM parts cost
OEM parts were used and purchased from Rocky Mountain ATV/MC. Here is a list that includes PN and cost:
Bearing, Special Roller

91002-KRN-A11

$30.15

Bearing, Radial Ball (30 X72 X16)

91001-KRN-671

$15.23

Oil Seal (38 X52 X7) (Arai)

91201-MEB-671

$8.72

Oil Seal (39 X56 X7.5) (Arai)

91202-MEY-671

$9.12

Oil Seal (20 X33 X5) (Arai)

91203-MEB-671

$3.43

Crankshaft

13000-KRN-A00

$247.61

Ring Set, Piston (Std)

13011-KRN-850

$31.20

Piston

13101-KRN-850

$57.63

Pin, Piston

13111-KRN-850

$17.40

Clip, Piston Pin (16 Mm) x 2

13115-KM7-700

$4.34

Gasket Sheet Kit B

06115-KRN-A00

$34.05

Gasket Sheet Kit A

06113-KRN-710

$30.06
Parts Grand Total: $488.94
Valve shims – Where to buy individual?
You can purchase individual shims (7.48mm) from Rocky MTN here.
One Lap At Moto Byron
UPDATE: I was able to take this bike for a lap after 15hrs have been put on the engine. Runs great!
Add Your Comments
If this info has helped you get your CRF get running again, or have any questions, please comment below.