I have several carburetor cleaning videos on YouTube, and thought I would share some tips based on the comments I have received. Often times people state the they have cleaned the carb, yet they did NOT disassemble the carb, or remove any jets. As a result, they are stuck with the same issue. So please watch the video and read the tips below to ensure you clean your carb properly.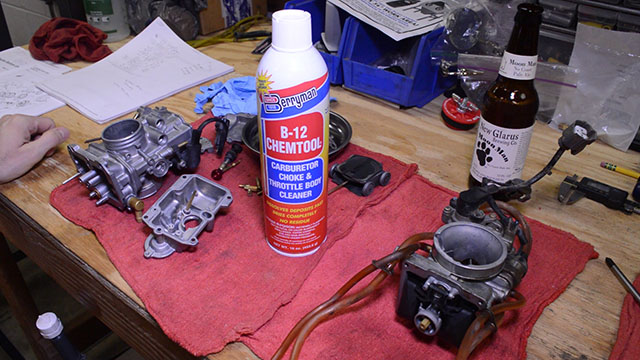 Make sure you use a high quality carburetor cleaner. My favorite is Berryman B-12 Chemtool which seems to have the most cleaning power and also has very good spray pressure.
You can buy Berryman B-12 Chemtool on Amazon.
Do's
Verify all passages are clear. Use Berryman B-12 to ensure passage is clear, follow up with 90psi compressed air.
Wear nitrile gloves and safety glasses.
Hold jets with small orifices up to a light source to see if it is clear.
Use Berryman Chem Dip on heavy varnished components.
Use JIS screwdrivers to avoid stripping screws. These are my favorite.
Print service manual and/or parts diagram to help assembly and verify correct parts used.
Dont's
Just spray carb clean at a half disassembled carb. You will regret it the results. There are no shortcuts in carb cleaning.
Do not get carb clean on rubber components.
Save the refreshments for when you complete the job.
Assume everything will be correct. People love messing with carbs and it may not be correct.
No sealer of any kind is supposed to be used anywhere on a carburetor. Buy new gaskets instead.
Paint or powdercoat parts that will be in contact with fuel. The fuel will eventually attack the paint.