Motorcycle Carburetor Rebuilding + Video
Have an old motorcycle that has been sitting for a while that you are trying to bring back to life? Chances are the carburetors are all varnished up, which are a pain to clean properly. Let me soda blast and ultrasonic clean them for you, as well as VIDEO record the whole process so you can watch and learn how it is done!
I'm willing to work on single, dual, triple (XS guys), and inline 4 carb setups. Please
contact me
and let me know what you need.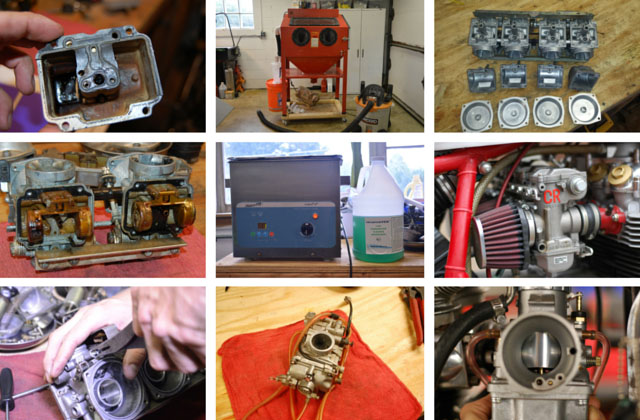 Pricing is $50 per carburetor
Pricing includes:
Teardown
Inspection
Cleaning – soda blast, ultrasonic, and dip. Yes, all 3 methods to get them squeaky clean.
Jetting if desired. (Note: aftermarket exhaust or air filter pods require rejetting).
Replacing fuel joint o-rings (if applicable).
Bench synching (if applicable).
Reassembly and wet bench test.
Pictures and complete rebuild VIDEO in 1080p of your project.
Email support to help fine tune once you reinstall carburetors.
Pricing DOES NOT include:
Parts not included. New gaskets/o-rings/rebuild kit will be required.
Throttle shaft seal replacement not included (if applicable). Extra labor is required to replace these.
Polishing or replating.
Painting (carbs should not be painted in my opinion).
Shipping
Contact me here for quotes, questions, and more information