Here are two new videos for you 2 stroke guys out there. The top end video covers piston & ring replacement, power valve maintenance, and runs 1 hour 10 minutes long! Bottom end video runs 2 hours 50 minutes long and covers crankshaft and transmission disassembly and reassembly.
Don't pay a shop $80+/hr when this is a job you can totally handle yourself. I'll walk you through the process step by step in this easy to follow video tutorial. Have a question? I'm here for email support every step of the way.
Service Manual
I found a cool website that has several KTM service manuals available for free. Please help support this site by hitting the donate link at the top.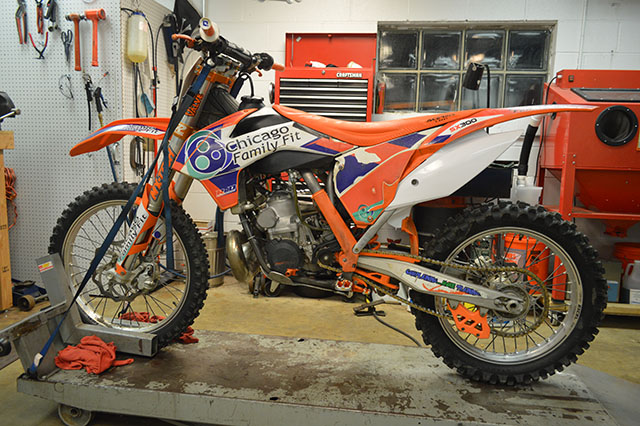 Tool List
Here is a complete list of special tools. Most can be bought from Amazon.
Motion Pro 08-0008 Clutch Holding Tool – Holds the clutch basket while loosening/tightening the nut.
Motion Pro 08-0427 Gear Jammer Tool – Jams the gears allowing certain fasteners to be removed/installed. Super helpful since it has a magnet to keep it in place.
Motion Pro 08-0026 Flywheel Puller M27X1.0 L.H External Thread – You will need this puller to remove the flywheel.
Tusk Crankcase Splitter – This tool was not needed to split the cases. However, it does serve a way to press crank out from RH side.
BOA BO13010 Constrictor Aluminum Strap Wrench – This tool is awesome for holding pretty much anything. It's aluminum body and rubber "grippy" strap makes it a solid tool.
Lisle 56750 Seal Puller – Nice tool to remove seals.
Impact driver – I have the Vessel 2500 which has been discontinued. Click here for the Vessel page, they have a newer version and sell JIS bits.
IR Temp Gun – Great tool for measuring case temperature.
Assembly Lube – Lube it up!
Moly Grease – Some areas call for Moly.
Three Bond Liquid Gasket – I used Hondabond. This Three Bond is pretty much that same stuff.
Part List
If you have an OEM crank, it would be best to send it out for a rebuild. Since the stock crank was long gone in this bike, we are replacing the Hot Rod crank with a new one. Hot Rod costs a fraction of what the OEM goes for.
Hot Rod Bottom End Kit CBK0006
Vertex 23375B Replica Piston Kit
Comments
Has this video helped you? Please comment below.