I have been busy the past 2 months working on new videos for my 2001 KX250. The videos below are probably the most detailed and longest running (duration) that I have made so far. I asked my audience what they would like to see in this video, and most comments were to spend extra time on the KIPS power valve and the transmission. The videos cover these topics in extra detail, multiple camera angles, and numerous disassembly/assembly of the same components.
The only bike featured in the videos is the 2001 KX250. However, I looked through all the service manuals for the KX125/KX250 in the 1994-2007 year range, and feel that 95% of it is the same. Along with the video, you should follow along with the service manual for service limits, torque values, and exploded diagrams. Those of you with KX or KDX models outside of the models/years mentioned, this video should help you as well.
Top & Bottom Rebuild Video
This video covers it all, from taking the seat off , pulling the motor, rebuilding it, and then firing it up and test riding.
Video is 6hrs long!
Covers KIPS power valve in detail
A new Wiseco piston was installed. Cylinder, piston, and clearances are measured.
Piston ring end gap was measured
Water pump seals and bearing
Splitting the cases
Disassembling/assembling the transmission, shift forks, and shift drum
Removing/installing the crankshaft
Top End Rebuild Video
If you only need to freshen up the top end, this video is for you.
Video is 2hr 45min long!
Covers KIPS power valve in detail
A new Wiseco piston was installed. Cylinder, piston, and clearances are measured.
Piston ring end gap was measured
Symptoms
None. This bike ran perfectly fine and had 200psi compression prior to the rebuild. So you are probably thinking why did I rebuild it? Well, during disassembly, I noticed one worn part after another. The piston had slight wear, cylinder plating was worn and super thin in spots, and large rod end bearing had some play in it. This goes to show that you really don't know what is going on in your engine unless you take it apart and inspect it thoroughly. After all, it's not made to last forever.
Rebuilt Crankshaft
There are several options available if your crank is worn out. I chose to have my stock OEM crank rebuilt by Ken OConnor Racing for several reasons. First off, a new OEM crank from Kawasaki is $350-450 depending which site you visit. That is way out of my budget for a 15yr old bike. Ken rebuilt my crank for $185 (price includes cost for me to ship it to him), which includes cleaning up the surface rust on the crank webs, installing a Pro X rod kit (made in Japan), and truing it to .0005-.001″. Turn around was 1-1.5 weeks, and I sent it out as soon as the crank came out. I had plenty to do on prepping everything for reassembly in the meantime. I'm very happy with their service and highly recommend them!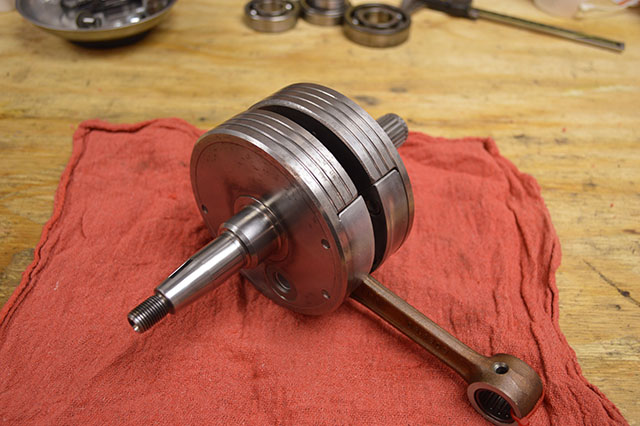 The last option I want to mention is going with a aftermarket crank or bottom end kit from Hot Rods. I was really close to pulling the trigger on a full bottom end kit which includes all bearings, gaskets, and seals. It definitely would have been cheaper versus going with OEM parts. I'm going to provide some links below if that is a route you want to take. I have never used parts from Hot Rods, so I can't comment on quality.
Hot Rods CBK0055 Bottom End Kit
Cylinder "Nikasil" Plating
Kawasaki had their own version of "Nikasil" plating called Electrofusion up until 2003. It's know not to be the best or as durable as other platings. As you can see in the pics below, my plating was worn super thin in spots and beginning to flake off as well.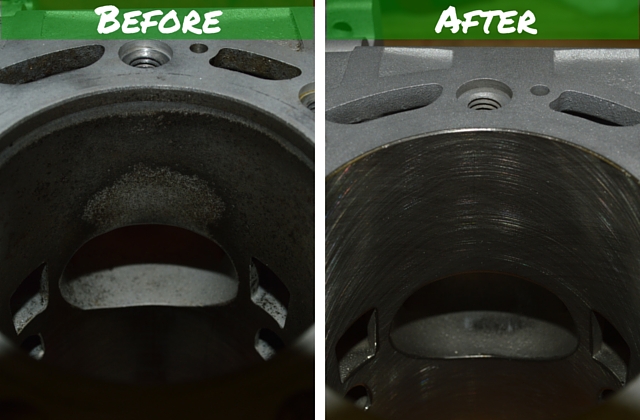 Now, a new cylinder costs $350+ from Kawasaki. Again, this is way out of budget for a 15yr old bike. Instead, I sent out the cylinder to Millenium Technologies for a replating process. Cost was $200 ($240 with shipping both ways) and turn around was 7-10 days.
There are a couple of things you should know about the replating process. First, the cylinder studs should be removed, and the video covers that. Don't bother cleaning the cylinder since they bead blast the entire part for you. I spent at least an hour degreasing and soda blasting, and felt it was unnecessary. Since they bead blast it, any paint will be stripped from the cylinder. I chose to leave it bare aluminum, if you want to repaint it check out this post on Thumpertalk. Lastly, it would be a very good idea to supply a new piston or buy one from Millenium so they can size the cylinder appropriately.
Piston
I went with a Wiseco Pro-Lite forged piston. I've used these pistons in all my 2 strokes over the years and never had a failure or any other issues with them. I bought mine off Amazon.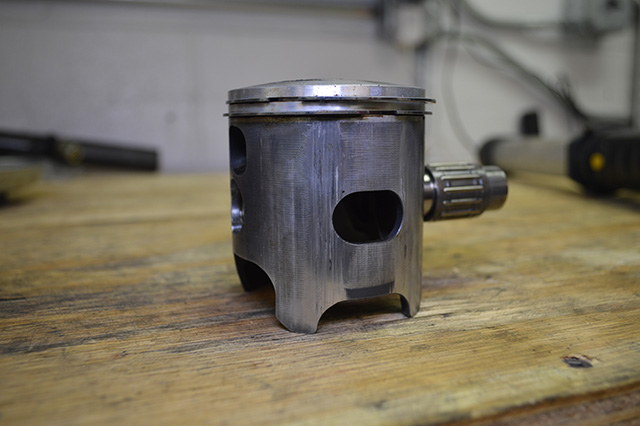 Gaskets, Seals, Bearings
I went with OEM parts for anything else that needed to be replaced throughout the build.
Tools
Here is a complete list of special tools. Most can be bought from Amazon.
Motion Pro 08-0134 Torque Wrench Adapter 12/14mm – This tool allows you to access the cylinder base nuts with a torque wrench.
Motion Pro 08-0008 Clutch Holding Tool – Holds the clutch basket while loosening/tightening the nut.
Motion Pro 08-0427 Gear Jammer Tool – Jams the gears allowing certain fasteners to be removed/installed. Super helpful since it has a magnet to keep it in place.
Motion Pro 08-0026 Flywheel Puller M27X1.0 L.H External Thread – You will need this puller to remove the flywheel.
Tusk Crankcase Splitter – A must have tool to split the cases.
Tusk Crank Puller/Installer Tool – This tool pulls/pushes the crank in without exerting any force through the rod pin. Less chance of "pinching" the crank during installation.
Tusk Crank Puller/Installer Tool C-clip Adaptor – Some Kawasaki models will need this adapter for the crank RH side.
BOA BO13010 Constrictor Aluminum Strap Wrench – This tool is awesome for holding pretty much anything. It's aluminum body and rubber "grippy" strap makes it a solid tool.
Lisle 56750 Seal Puller – Nice tool to remove seals.
Impact driver – I have the Vessel 2500 which has been discontinued. Click here for the Vessel page, they have a newer version and sell JIS bits.
Vessel P3 JIS Screwdriver – These screwdrivers are awesome and JIS. Japanese bikes do not have Phillips drive, so quit stripping them with proper drivers!
Vessel P2 JIS Screwdriver – These screwdrivers are awesome and JIS. Japanese bikes do not have Phillips drive, so quit stripping them with proper drivers!
IR Temp Gun – I realized mine broke during the video. They are cheap and nice to have. Great tool for measuring case temperature.
Assembly Lube – Lube it up!
Moly Grease – Some areas call for Moly.
Three Bond Liquid Gasket – I used Hondabond. This Three Bond is pretty much that same stuff.
Service Manuals
Here are some service manual in PDF format which you can download for free:
KX125 KX250 99-07 Service Manual
KX125 KX250 94-98 Service Manual
Comments
Has this post or video helped you? Please ask any questions or leave a comment below!