Do you want to wake up your stock sounding and performing Shadow? The first and easiest modifications you can make is to install a less restrictive & better sounding exhaust, along with a carburetor jet kit.
In this 1 hour and 30 minute long video, I take you through the process step by step on installing Vance & Hines Cruzer pipes and their stage one jet kit. Save yourself some money and do it yourself!
View the video sample above, or click below to get the full length video, which streams instantly with unlimited views. Have a question along the way? Email support is included.
Year, Make, Model
In this video, a 2007 Honda Shadow 600 VLX single carb is featured. It covers models 1997-2007.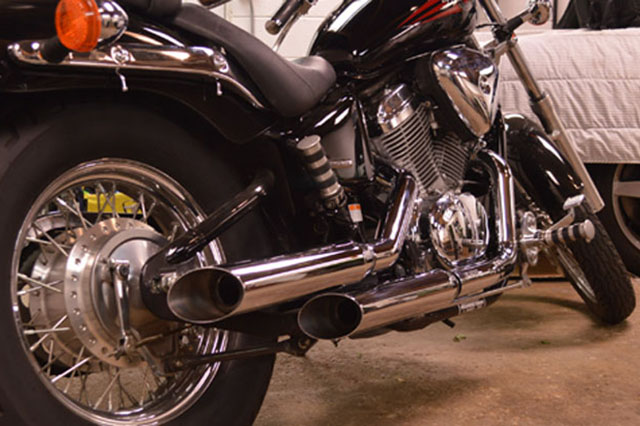 Service Manual
Click here to download a FREE service manual.
Symptoms
None. However, jetting is typically lean from the factory. Also, since we are changing the exhaust out, the jetting also needs to be altered to make sure it runs correctly. Finally, none of the aftermarket jet kits address the pilot circuit, so I went ahead and increased the pilot jet size as well.
Results
With new pipes and the carburetor properly jetted, the throttle response is much better and the engine seems to have gained some power.
Tools
Here is a list of tools used for this project. Note the phillips screws are actually JIS, and the fuel screw uses a "D" shaped tool. The "D" shaped tool that comes with the jet kit will work, however the bit allows you to use an extension and less chance of burning yourself. You can find everything below on Amazon.
Vessel 125943 908 P3x150 Impacta Screwdriver
Vessel Megadora 980 Impacta P2x150 #2 JIS Cross Point Impact Screwdriver
Motion Pro Replacement D-Shaped Bit for Hex Driver 08-0242
Parts
Below are all the parts used in this project. You can buy them from Amazon.
Vance & Hines Exhaust Cruzers for Honda Shadow VLX600 98-07
Vance & Hines Carburetor Jet Kit For Honda VT600C Shadow VLX/VT600CD Shadow VLX Deluxe 1999-2007 / VT600CD2 Shadow VLX 1999-2000 – 21198
EBC Keihin RD N424-21 Slow Jets (Pilot) – Jet Size 48 EBC424-21-48
Other helpful videos
Once jetting is complete, you have to check for vacuum leaks and tune your fuel screw. This is covered in the video, however, the videos below cover everything in more detail.
Comments
Has this video or blog post helped you out? Comment below.