I've put together an hour long VIDEO on how to properly clean and rebuild your Kawasaki Vulcan VN800 carburetor. The video walks you through the process step by step, and covers all models from 1995-2006. After purchasing the video, you can instantly stream it with unlimited views. Get your bike back on the road and save yourself at least $150 by doing it yourself!
Year, Make, Model
A 2001 was featured in the video, however models 1995-2006 are similar if not the same.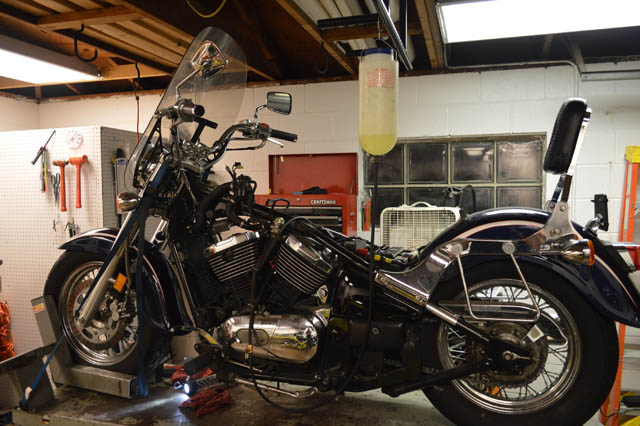 Service Manual
Below is the link for the service manual for the model. Download it for free in pdf format.
Kawasaki Vulcan VN800 1995-2004 Service Manual
Symptoms
There are many reasons why a carb clean or rebuild is needed:
Bike will only run on starting fluid (clogged jets)
Bike takes forever to warm up and needs choke on to run better (jets partially clogged)
Fuel leaking due to a stuck, dirty, or worn float needle (like the bike in video)
Age. The rubber parts in a carburetor degrade over time. (Accelerator pump diaphragm, air cut off)
Stale fuel. If you let your bike sit with untreated fuel, it will gunk up over time.
Crankcase is overfilled and oil smells like fuel. (stuck float caused fuel to leak inside engine and bypass piston rings. Make sure you change the oil!)
Diagnosis
The owner of this bike told me that one day he walked into the garage and noticed fuel coming out the exhaust pipes and other areas, pooling under the bike. This is a classic symptom of the float needle causing the issue, whether stuck, dirty, or worn.
Tools
Here are links to some tools from Amazon that will make the job go much easier.
Extra long ball end allen keys
Vessel Megadora 980 Impacta P2x150 #2 JIS Cross Point Impact Screwdriver
Vessel 125943 908 P3x150 Impacta Screwdriver
Other Helpful Videos
If your carburetor still has the factory welch plug, watch this helpful video on how to remove it.
In the video, I mention DIY soda blasting. Here is everything you need to know on the subject.
If soda blasting is not your thing, check out the Chem Dip vs. Pinesol video.
Once you get the bike running, make sure to check for vacuum leaks. I initially did not have the boot tight enough. The clamp is a PITA to tighten.
Once the bike is up to operating temperature, and no vacuum leaks present, go ahead and tune the fuel screw. The video below explains how to do so.
Parts
I was only able to find OEM parts for this model, which is not a bad thing, however I feel they were quite expensive! Also, the float needle comes with the float, which I feel did not have to be replaced.
Comments
Has this blog post or video helped you in any way? Comment below and tell me about it!