Does you CB have a leaky head gasket? How about low compression? Chances are it has both problems mentioned. I have found that both issues are very common problems on these models. In this 2hr 30min long video, I will walk you through the rebuild process step by step to eliminate leaks and restore compression.
Year, Make, Model
This video covers all 1971-1973 CB500F & 1974-1978 CB550F models.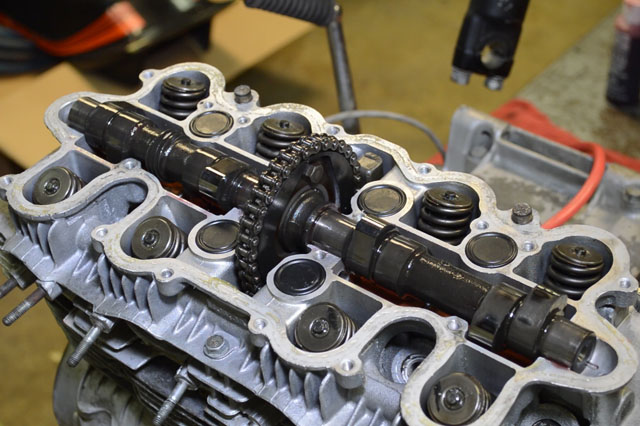 Service Manual
Click here for a FREE service manual and parts list for the CB500/CB550.
Head Gasket Oil Leak
A common leak found on these models is the oil passage on the end of the cylinder banks which supply oil to the top of the motor. There are o-rings located between head and cylinder that typically get dry and brittle over time, eventually causing a leak. At a minimum, the head gasket needs to be replaced. However, I would recommend that the cylinder base gasket be replaced as well. When the head is removed, the clamping pressure is released from the base gasket, and you may get a leak once it is all put together. Also, with the cylinder removed, you can inspect the cam tensioner which is known to develop cracks, so this will give you the opportunity to inspect that as well.
Compression & Leak Down Test
It's also a good idea to perform a compression test on any motor that has been sitting for a while or you are about to tear apart. Why? So you can address any issues while apart.
First up is the compression test. Here is the gauge I use that comes with a 12mm adapter required for this motor. Results for cold and dry are listed below. Adding some oil to #2 cylinder did not change the readings all that much, which indicates that the piston rings are sealing properly.
#1 before rebuild – 117psi
#2 before rebuild – 97psi
#3 before rebuild – 140psi
#4 before rebuild – 140psi
Hmmmm, something is up with all the cylinders, especially #1 & #2 considering the manual calls for ~156-170psi. Now what? Well, we found a problem, however do not know what is causing the low compression results. At this point a leak down test needs to be performed to find the source of the leak. Check out my DIY leak down tester build here. Leak down test results:
#1 before rebuild – leaking exhaust valve
#2 before rebuild – 27-37% leaking exhaust valve
#3 before rebuild – leaking exhaust valve
#4 before rebuild – leaking exhaust valve
Keep in mind an engine in excellent health will have leakage up to 5%, while up to 15-20% leakage is considered normal before a rebuild is necessary. Now 37% on #2 is clearly a problem! At this point we are all probably thinking it is time for a valve job. However, in the video I demonstrate that a couple of light taps on the valve stem with a piece of wood decreases the leakage. This means that I am knocking carbon off that is preventing proper sealing.
After rebuild leak down results on #2 cylinder falls right at 4.5%….perfect! And compression is back to 150-170psi on each cylinder per manual specs!
Leak Down Formula
I want to explain the formula on how to calculate leakage. Using 100psi works great for easy math, however in some cases that much pressure will roll the motor over. In this video, I happen to use 22psi of supply air pressure, and at one point in the video, the gauge read 16psi measured air pressure. So using the formula below, ((22-16)/22) X 100% = 27% leakage.

Tools
Here is a list of tools used in this video. I bought most of the stuff from Amazon.
Actron CP7828 Professional Compression Tester
Motion Pro valve core remover tool
Vessel Impacta P3 JIS screwdriver
Vessel impacta P2 JIS screwdriver
Lisle valve suction cup tool for lapping
Permatex valve lapping compound
Parts
The full gasket set does not come with everything you need. I ordered the copper/AL washers and rubber "pucks" under the valve cover from my local Honda dealer.
Before And After Pictures
Here are some before/after pictures of various parts. The valves were cleaned up with a wire wheel while the rest of the components were soda blasted, which works great for removing carbon and gasket material. The cylinders were also hit with a ball hone to remove any glazing and give it a nice crosshatch finish.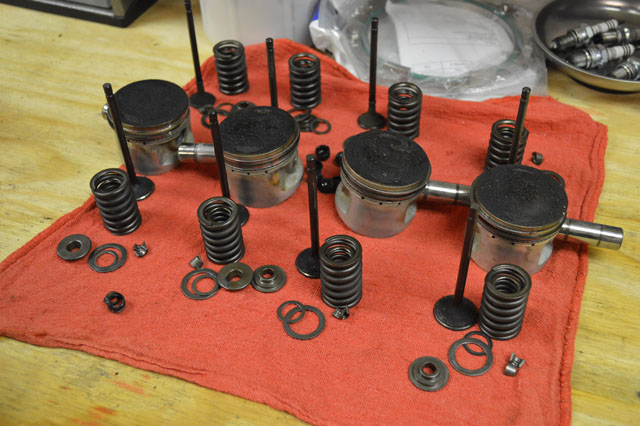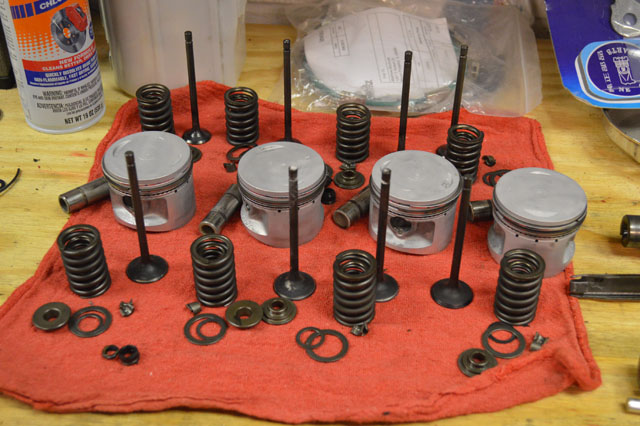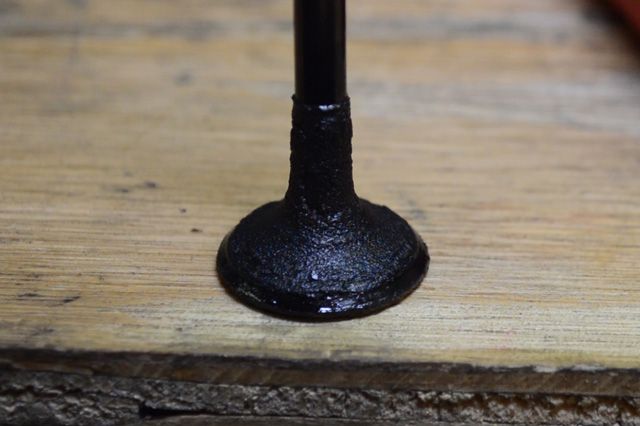 Other Helpful Videos
Here is a video that explains how to build a leak down tester.
Comments
Has this video or blog post helped you out? Please comment below!