Finally! A new resource is out in the market that takes the mystery out of rebuilding a modern four stroke dirt bike engine! Paul Olesen from DIY Moto Fix has written a handbook that is over 300 pages long, and is packed with 250 illustrations in COLOR. Also, as you read along, Paul gives "Hot Tips" and "Technical Takeaways" which can save you time, money, and gives a good description of WHY certain areas need to be addressed during a rebuild.

Who is this book for?
This book is written for both beginner and advanced DIY people who wrench on their own bikes, in their own garages. Whether you are planning your first rebuild, or have several under your belt, you can still learn plenty from this book, and get the job done properly at home.
Will I still need a service manual for my model?
YES! This book will not replace the service manual for your model. The service manual will have torque specs and service limits that will be specific to your model, and you will need that info during your rebuild.
However, I believe this handbook fills gaps and answers some questions that the service manual will not. Afterall, a service manual is geared towards a shop environment with seasoned mechanics. This handbook on the other hand, spends the first few chapters explaining preventative maintenance and why engines fail in the first place. It also goes into great detail on WHY you need to address certain areas of your engine during your rebuild.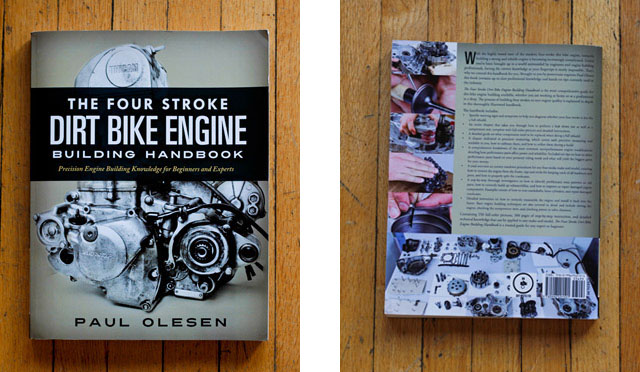 Color Illustrations
The color illustrations (there are over 250) are very clear and are able to point out all the little details that you need to pay attention to during a rebuild. Service manuals usually have low quality black and white illustrations, or even worse, cartoon drawings. Also, the eBook version, in pdf format, allows you to zoom in on the pictures and the quality still looks great.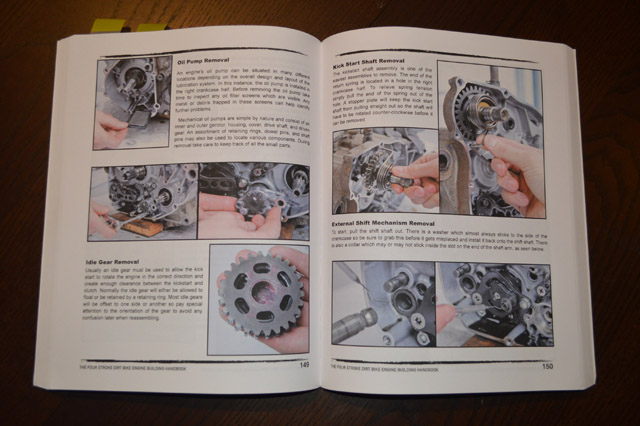 More is better
Whenever I start a project, whether big or small, I like to plan ahead and have all the right tools AND resources before starting. In most cases, the more resources the better. This handbook is another resource to accompany the OEM service manual for your project, and designed to help it go much smoother. If you only learn a few things from this handbook and put it into practice (believe me, you will learn more than a few), then the handbook has already paid for itself.
Just do it
If you are still on the fence or find engine rebuilding intimidating, believe me you're not alone. I remember back in High School when I tackled my first rebuild. I didn't have any money, so I had to figure it out otherwise I wouldn't be able to ride. Sure, I found the project to be challenging, but also very rewarding at the same time. Once the rebuild was completed, there was no better feeling than firing your bike up that you rebuilt yourself. So to make a long story short, I highly recommend people to just go for it. You'll be glad you did.
How much will I save if I rebuild myself?
Shops near me charge $550-800 for labor only depending on whether you pull the motor out of the frame or not. All the more reason to attempt the work yourself, and spend the saved money on tools and resources needed to get the job done instead of paying a shop.
How long will a rebuild take me?
I would estimate that it would take a first timer about 15-20 hours to rebuild their own engine. Once you have done a few engines, expect to spend about 8-12 hours per rebuild. Keep in mind these are estimates to give you an idea of how much time it takes.
Where do I get a copy of the book?
So if you are looking for a great resource on four stroke engine rebuilding, and plan on tackling a rebuild soon, take a hard look at Paul Olesen's Engine Building Handbook. For more information, or to purchase your own copy, click the link below:
The Four Stroke Dirt Bike Engine Building Handbook
Offer code for HTMR fans
Paul was nice enough to give a site wide discount code for all the HTMR fans out there. The code is below and gets you 20% anything in his store.
Discount/offer code: "HTMR20"
Other great content from Paul
Visit Paul's blog – DIY Moto Fix
Check out his Shock Rebuild Video
Read some of his articles on Thumpertalk – "Moto Mind"
Check out his CRF450 Engine Rebuild Video
Comments
Check out Paul's blog/books/videos and comment below. Let me know what you think!