In my last video, unboxing new Tool Vault 55×24 toolbox, I mentioned that I would need to get a hold of some tool organizers. Well, I did some shopping on Amazon and ordered a ton of stuff. My goal is to quickly review some of these products in this video.
All products mentioned in the video are linked below, with a brief description. Amazon links below support me at NO COST to you.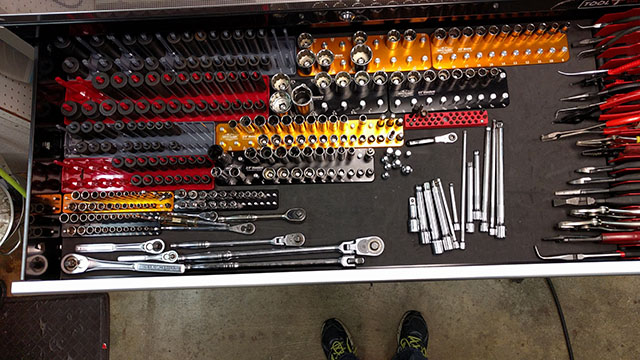 Toolbox
The toolbox is a Tool Vault 55×24 from Strictly Toolboxes.

Socket Trays
I tested 4 different brands in this video:
Hansen – These are a great value and the posts make it easy to read size. I am concerned about the smaller posts breaking over time.
Weslting – These are billet aluminum and in theory should never break. Also, the anodized finish looks great too. Simple design and clean looking. I will be ordering more as they have universal ones for all the oddball sockets/bits I own.
Vim Magrails – These magnetic rails are very expensive. However, they are super customizable with T-slots available in 1/4″, 3/8″, & 1/2″. You can also stick these on the side or even upside down in your toolbox. I can see owning 1-3 of these rails for certain tools.
Ernst Socket Boss – The twist and lock feature may be cumbersome to use when your hands are greasy/oily. I didn't spend too much time reviewing them since I am totally happy with the other 3 brands mentioned above.

Wrench Trays
Hansen – This particular model has the little gripper tabs that lock the wrench in place. I did not care for this feature and did not work well with my wrenches (at least the thicker ones).
Ernst – Inexpensive and can be trimmed. These work perfect.

Plier Rack
ML tools – Instead of laying the pliers down flat in a shallow drawer taking up a ton of room, give these a shot in a deeper drawer. They really save a lot of space.

Screwdriver Organizer
Still looking for a good screwdriver organizer. One that does not allow the driver to slip off organizer when you slam the drawer. If you have one that you are happy with, let me know! Otherwise I'm thinking of designing my own.