So I thought it would be fun to give you guys some info on what has happening behind the scenes dating back to 2014. I know, a video like this was long overdue.
New website design
First off, back in 2014 I got sick of looking at the HTMR website theme/layout that I had back then. There is a pretty cool site called Wayback Machine that lets you look at websites in the past if you forgot what it looked like. Here is a link to my site from 2013, and a screenshot below.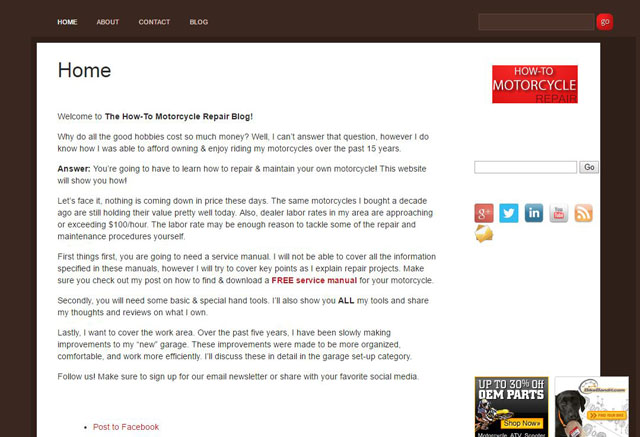 One day I received an email from a guy named Simon Brown who needed some tech support for his crf450r. He mentioned he was a web developer and he would be willing to help me out with the site for free. Simon did an excellent job, and those of you who need any web work, I highly recommend him. Check out his site at skwidgets.com. Simon, if you are reading this, thanks again!
Videos For Purchase
Next up is I started charging for some of my premium videos back in 2014. I now have 13 out of 100+ videos that require purchase to view them. So why the hell am I charging for videos?
Well, in a nutshell here are some reasons:
I wanted to invest in better video/audio equipment and shop tools. I bought a Nikon D3200 camera and a Tascam Dr-05 audio recorder.
I had to build a more powerful PC to handle the HD video editing.
I invested in better video editing software, Adobe Premiere Pro CC.
I bought books/training material on how to use everything mentioned above.
I started this site with a flip cam which costs $40, a $300 laptop, and free video editing software windows movie maker.
I want to send special thanks to Tom Delaney from How To Wrangler for helping me with video/audio gear selection. Tom has a How-To site for Jeep Wranglers and is a professional videographer.
Thanks!
Lastly, I want to thank all that have purchased a video from me. Your purchase helped fund all this new gear and equipment, which should allow me to make better videos moving forward.